Martin's Hundred
Just below Williamsburg on the James, Carter's Grove (circa. 1751-1753) is a remarkable, somewhat confusing place. Built in the late 1730s by Carter Burwell, grandson of Robert "King" Carter, perhaps the richest man in the colonies in the early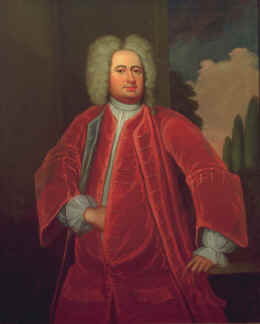 "King " Carter
eighteenth century, this stately Georgian mansion was meant to be a showplace more than a functioning tobacco plantation. The Colonial Williamsburg Foundation acquired the place n the late 1960s.

| | |
| --- | --- |
| | |
| The "Great House" at Carter's Grove | Excavations at Martin's Hundred |
While testing archaeologically in the early 1970s, CW's premier historical archaeologist, Ivor Noel-Hume, discovered "Martin's Hundred,," a settlement wiped out during the Indian Revolt of 1622. The center of life there was a palisaded "village" named "Wolstenholme Towne." Here's an artist's conception of the place from one of the assigned National Geographic articles, along with a photo of a three-dimensional model.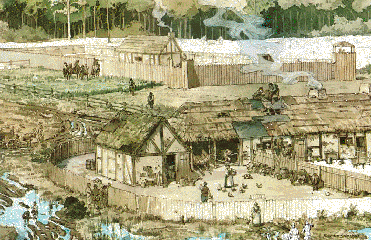 Artist's Conception of Martin's Hundred, Circa. 1622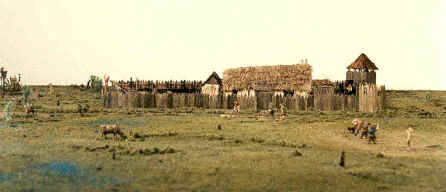 Model of of Wolstenholme Towne
The site has not been reconstructed. Instead, there is a walking tour, complete with recorded voice-overs by Noel-Hume (talking out of barrels no less!) and outlines of buildings and compounds. There is also a terrific underground museum. We can see the excellent introductory flick at the visitor's center, then see the archaeology museum, then take the walking tour of the settlement itself.

M

Blockhouse at Martin's Hundred

Ivor Noel-Hume Talks Out of a Barrel

The Class Entering the Winthrop Rockefeller Museum

Inside the Rockefeller Museum at Martin's Hundred
Return to the Main Page for This Course
Return to JPW's Homepage